New features and attractions for 2021 coming soon! 2020 highlights shown below.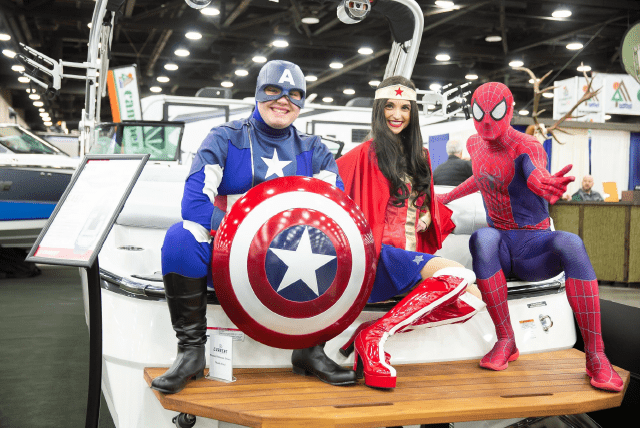 Super Thursday
Join us on Thursday, January 9 for the show's best deals! Take advantage of one-day-only special offers on a wide variety of boats and marine products throughout the show.  Click here for list of special discounts.
Plus, meet one of your favorite Superhero Characters and get your picture taken from 6pm to 8pm. Young superheroes are encouraged to come dressed as their favorite characters! Those in costume will get a special prize.
Discounts
$5 Admission after 5pm—(online ticket offer only). Buy your $5 Super Thursday tickets now!
$5 Draft Beer, $4 Hot Dog
Specials are valid Thursday, January 9, 2019 ONLY.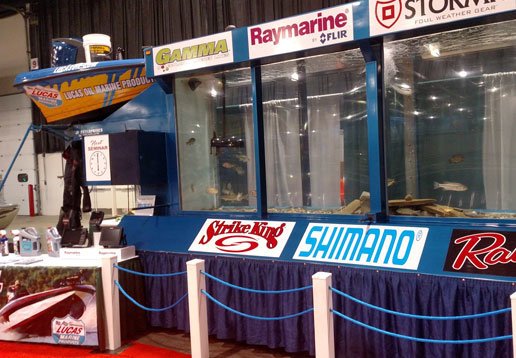 NEW! The Hawg Trough - Fishing Demonstrations
Location: Space 504
Experience fishing in a whole new way—from the viewpoint of the fish! Watch anglers demonstrate their fishing and casting skills at this 5,000-gallon aquarium. You'll enjoy a unique underwater view of how fish react to different fishing techniques and strike at various types of bait and lures.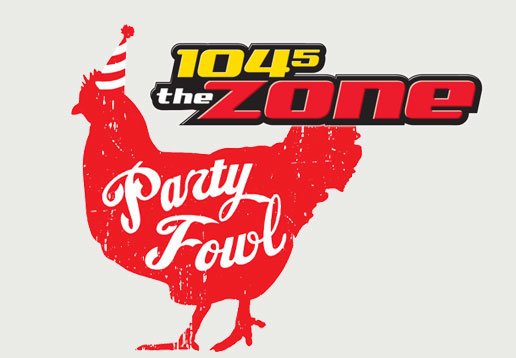 Wing-A-Thon Wing Eating Contest
Saturday, January 11 from 10AM-2PM
Cheer on contestants as they compete in our wing-eating contest hosted by WBUZ-FM (The Buzz), with wings provided by Party Fowl. The contestant with the biggest "appetite for success" will walk away with a prize package of concert tickets, gift cards and other items. 
Contest to begin around 12:30 pm. Listen to 102.9 The Buzz for more details and your chance to enter.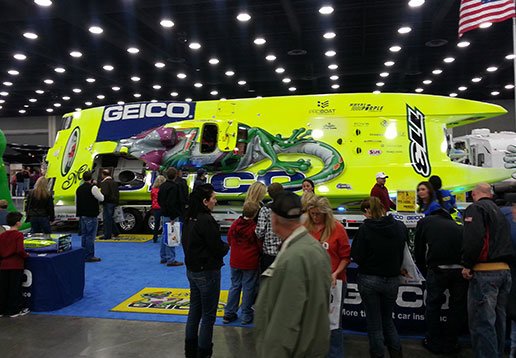 Miss GEICO Offshore Racing Boat
Space 440
Powered by 3,300-hp 1650 RACE Mercury Racing sterndrive engines, the world-champion Miss GEICO is a 50-ft. Victory catamaran that can reach speeds in excess of 200 mph!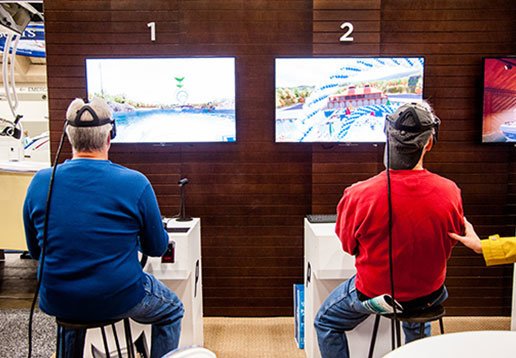 Boating Simulator
Space 1A
Equipped with a steering wheel and real Mercury throttle, the America's Boating Club's Boating Skills Virtual Trainer offers "hands-on" practice in boating skills such as docking, pivot turns, stopping and more.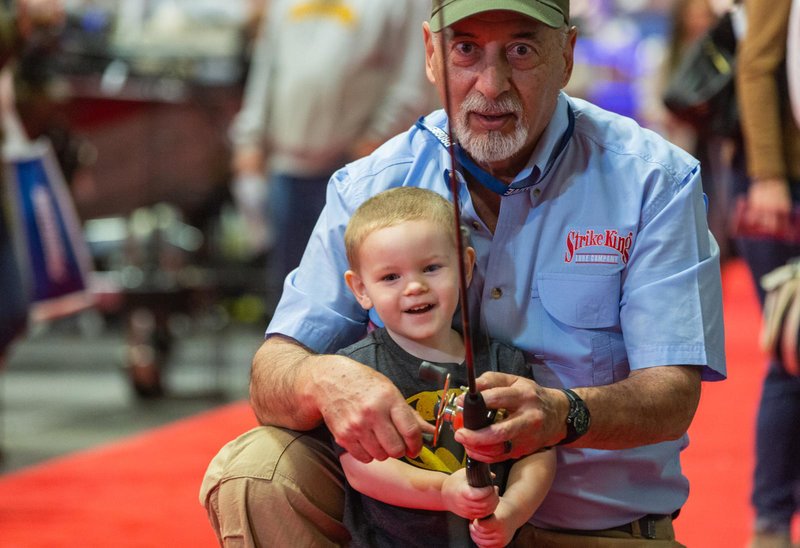 NEW! Kids' Fishing 101 - FREE for kids 5-12
The Hawg Trough Seminar Area, Space 504
Fishing tips and basics that will have your kids catching "the big one" in no time. Kids who attend will receive a special prize at the show (while quantities last).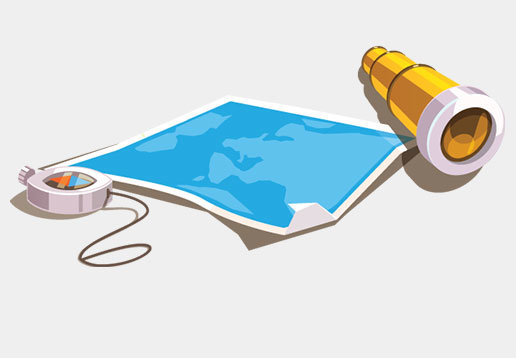 Kids' Discover-a-Boat—FREE for kids 5 to 12
Hosted by USCGA, Space 1B

Little skippers are invited to navigate the show floor and discover recreational boats of all kinds. Return completed Discover-a-Boat cards to USCGA for a prize (while quantities last).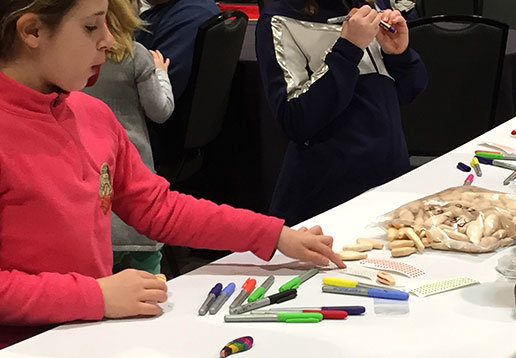 Kids' Create-A-Crankbait—FREE for kids 5 to 12
Hosted by C & O Marine, Space 510

Crafty young anglers can color a plastic crankbait for a custom, take-home souvenir, while supplies last.
Saturday  1 PM–3 PM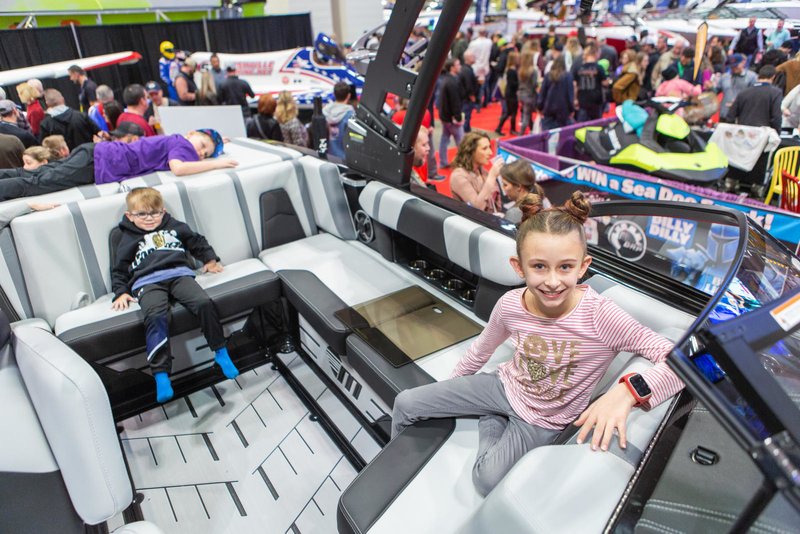 Kids' Costume Characters
Kids get up and personal with some of your favorite ruff-ruff rescue pups. Be sure to keep your camera ready to capture the moment. Friday, January 10 from 6pm – 8pm.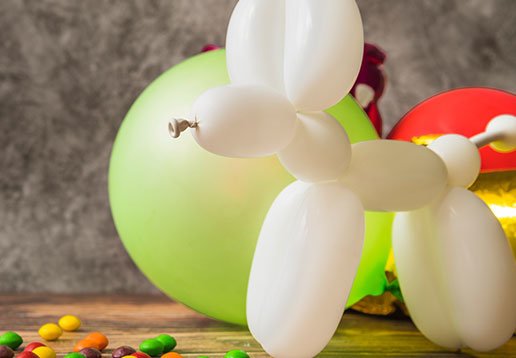 Sean T Hughes—the TN Balloon Guy
Hosted by Nashville Boat Club, Space 223

Sean T Hughes, the Tennessee balloon guy will twist, bend, and shape balloons into animals, headwear and other fun shapes sure to put a smile on your little one's face. Sean will be at the Nashville Boat Club booth on Friday from 5 PM to 9 PM, Saturday from 1 PM to 8 PM and on Sunday from 1 PM to 5 PM.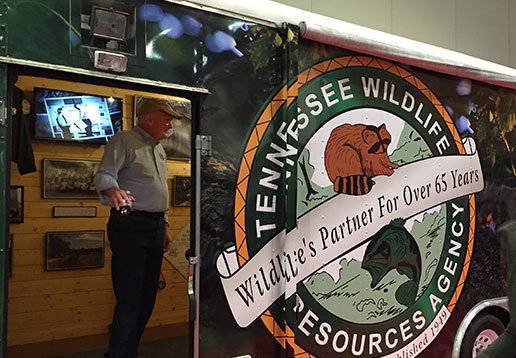 Tennessee Wildlife Resources Agency (TWRA)
Space 501

You're one-stop shop to purchase first time boat registrations and renew your boat registration.   
Plus, pick-up schedules and the rules and regulations you'll need for the 2020 boating, fishing and hunting season.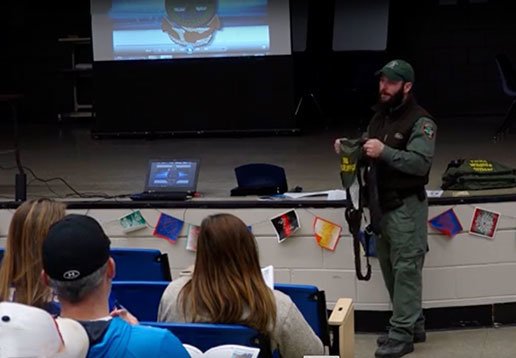 FREE Boating Safety Courses
Friday, January 10, 5:30 pm–9:00 pm
Saturday, January 11, 8:00 am–11:30 am 
Free responsible boating course offered by the Tennessee Wildlife Resources Agency (TWRA) on Friday and Saturday in Show Office Hall C.
There is no charge for the class however, you MUST purchase a Type 600 Boat Safety Exam Permit and bring it to class with you. 
Permits can be purchased anywhere hunting and fishing licenses are sold
Online registration CLICK HERE

January 10, Friday class—enter passcode NBS10
January 11, Saturday class—enter passcode NBS11

Registration available at the TWRA Booth #503 through Friday, January 10. 
Upon completion of class and exam, show admission is FREE!
NOTE: ONLY TENNESSEE RESIDENTS BORN AFTER JANUARY 1, 1989 NEED TO PURCHASE THE TYPE 600 PERMIT.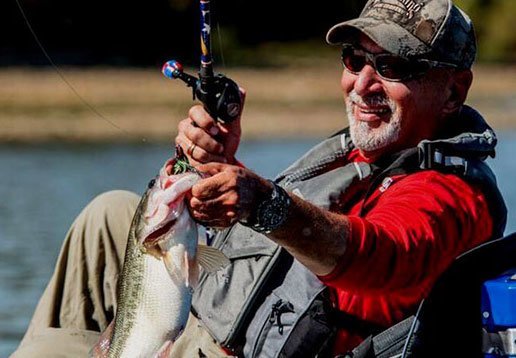 Casting Class with Joey Monteleone
Space 503

Stop by Joey's booth and learn about fly fishing, bait casting and casting accuracy. Hands-on instruction offers tips and techniques for everyone beginners to advance.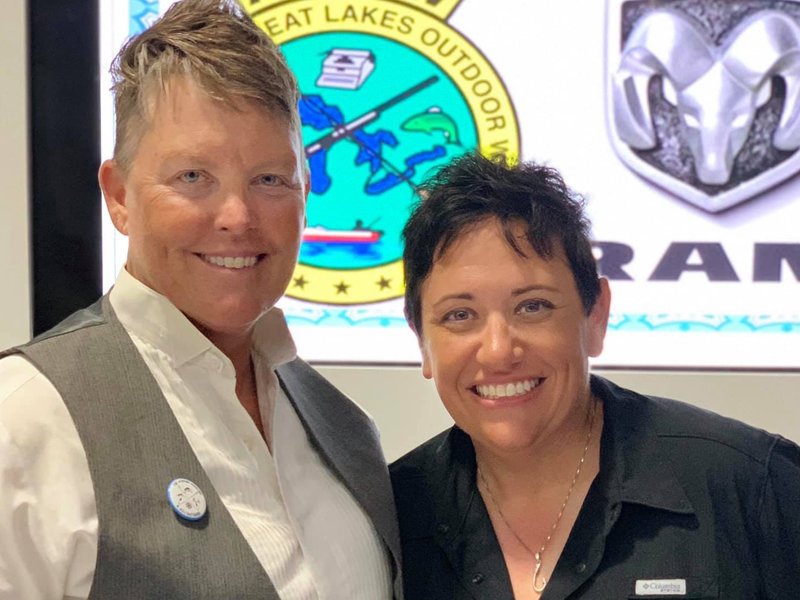 The Woman Angler & Adventurer Podcast 
Saturday, January 11th at 12pm (Noon)
The Award-Winning Woman Angler & Adventurer Podcast will be on site hosting a LIVE Podcast episode from the Hawg Trough. The hosts, Captain Angie Scott and Captain Barb Carey, will be featuring local women in the boating and fishing industries who are making an impact and helping to inspire, empower, educate, and connect other women. New products will be featured as well. Stop by and watch the show, and then meet the ladies afterwards!